Welcome a minimalist design with Exterior Roller Blinds that combines any interior with ease, while safeguarding against heat and glare.
Built with a navigated wire system and reliable front bar that minimizes sailing effect when strong wind occurs, the Exterior Roller Blinds are effectively managed with automation for user-friendliness.
Benefits of Outdoor Systems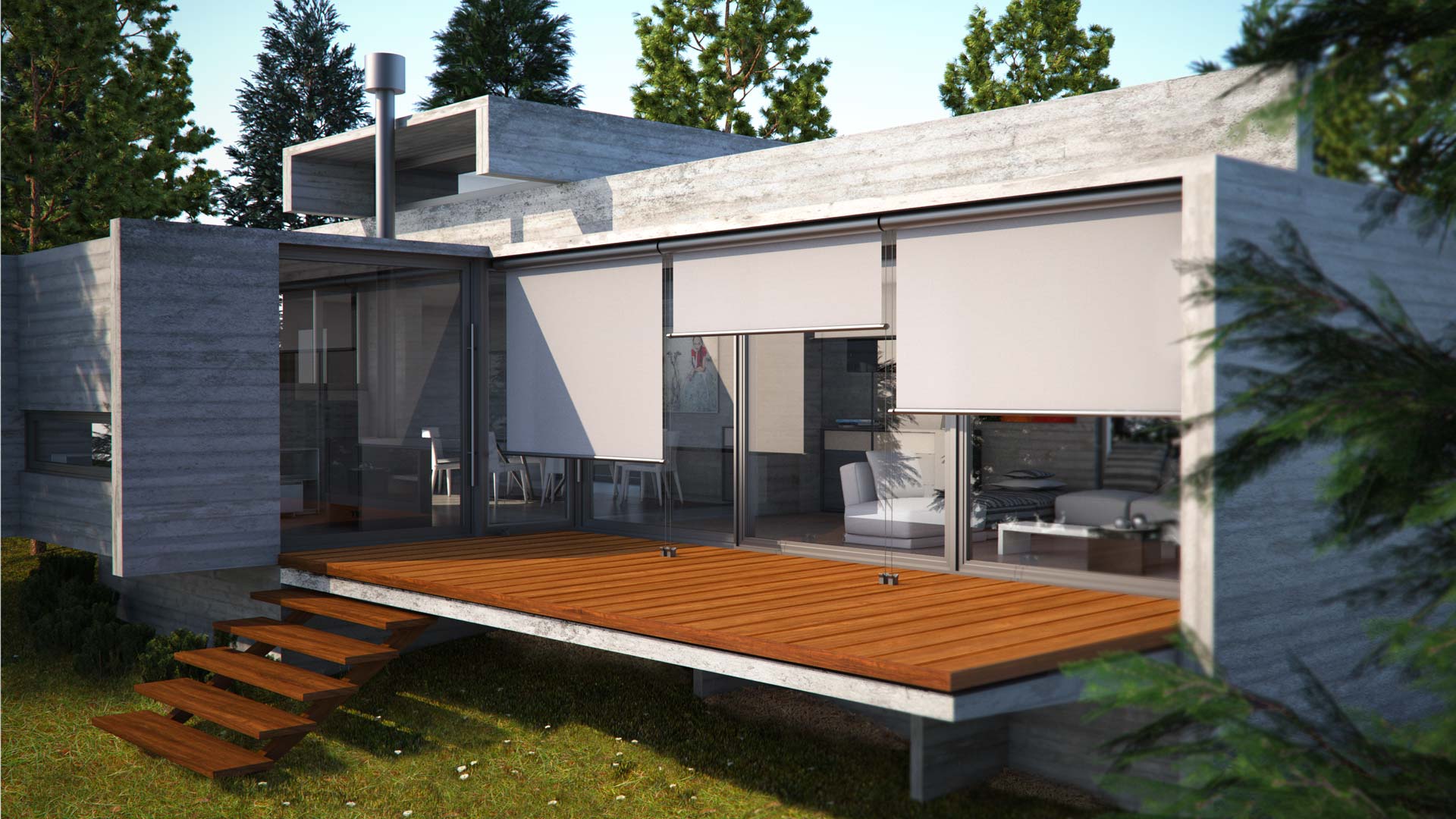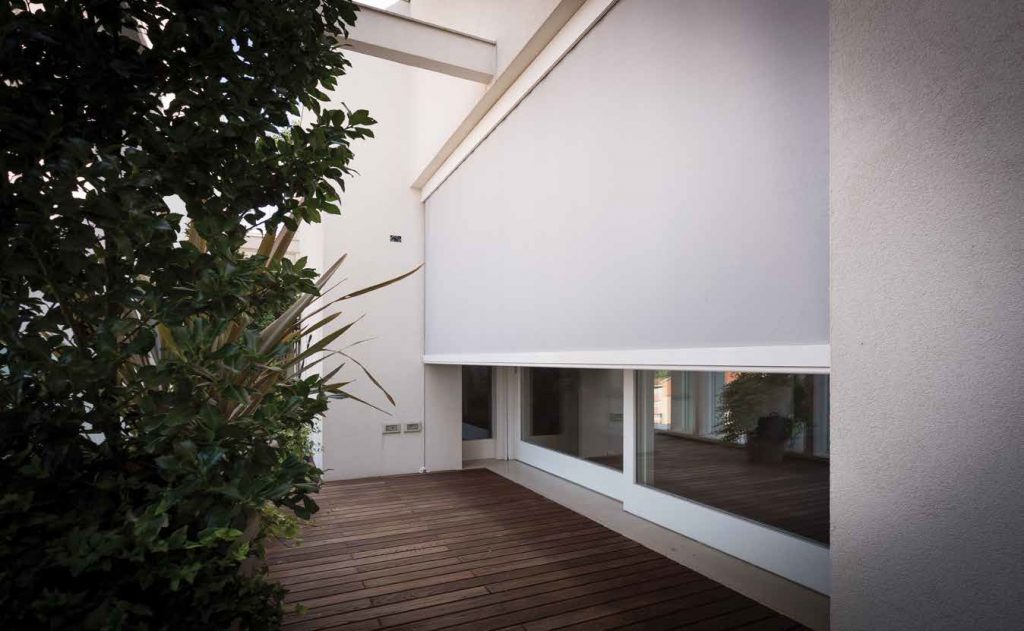 Magnetic Base
The roller blinds are securely held to the ground by a strong magnetic force while safeguarding the internal surroundings from glare and heat.

Perfect for architectural designs with a restriction in establishing side-channels, this screen has a wire-guide to suit different structural and aesthetic guidelines.

Constructed with a strong frontal bar and 4mm steel wire guide technology fixed on an elastic support to make sure ease in up and down movements that meets your needs.

This system comes with a modern aluminum housing design which conceals and safeguards the textile when completely rescinded. Various external climate immune textiles are available to create a clean and organized look for your space.
Roll N Conceal
While adding extra details to the buildings' facade through sleek designs, Exterior Roller Blinds also protects the interior from solar irradiance, making it comfortable at an ideal temperature with visual comfort. With high-quality aluminium and 316 marine grade stainless steel, they withstand extreme weather. Premium materials with the best g tot value and openness build a welcome setting with enhanced energy productivity.
Exterior Zipscreen
In areas with pergolas, patios and balconies, the Exterior Zipscreen is the perfect solar safeguard. Serving as the first layer of defence to protect against solar radiation, the Exterior Zipscreen extends seclusion and protection against extreme weathers and insects all day.
Intelligent hidden interlocking parts gears the Exterior Zipscreen with automatic aligning size guide rails to allow for fixture in and out of square areas.
This safe and personalized Exterior Zipscreen provides an efficient answer for any outside household, commercial and coastal spaces. With a range of external textiles options, including the screen mesh fabric which allows for light penetration management, the Exterior Zipscreen provides an enjoyable level of seclusion. Its neat, modern arrangement offers a sleek finish for any outside area or windows.
Hand Crack
Its contemporary and stylish system provides an effortless cohesion with any home décor or office décor, delivering easy management of the roller blinds.
Control Solutions (Via Switch / Remote Control / Automation)
Smooth assimilation of Exterior Roller Blinds system with third-party switches or wireless wall switches saving costs on electrical works.
The user can easily mount it with no damage to walls as ERB are wireless.
Wireless remote control ensures usage with comfort and convenience to users
User-friendly functions that allow users to change and set "favourite" settings
Mechanized Exterior Roller Blinds systems effortlessly combines with any home automation system and other features within a setting.
Simple on-the-go connection by smartphones and tablets, without additional controls needed. It is naturally streamlined to control, programming and supervision of all your devices
Automation innovation features match user's requirements in their daily lives. This system provides convenience to controllers by allow them to create different moods with scene control and timer settings through a touch button. (Such as the diming of lights, drawing of curtains and controlled opening of blinds)
Façade management control solution
To attain the ideal user comfort and energy efficiency, the Exterior Roller Blinds system can be combined with façade management control solution. Its bioclimatic features has real-time reactions dependent on the climate, tending to the comforts of users.
For improved safeguarding and comfort, the automated "sun sensor" controls used smart controls to fine-tune slats and improve lighting, while ensuring seclusion within the interior.
How Magnetic Base works ?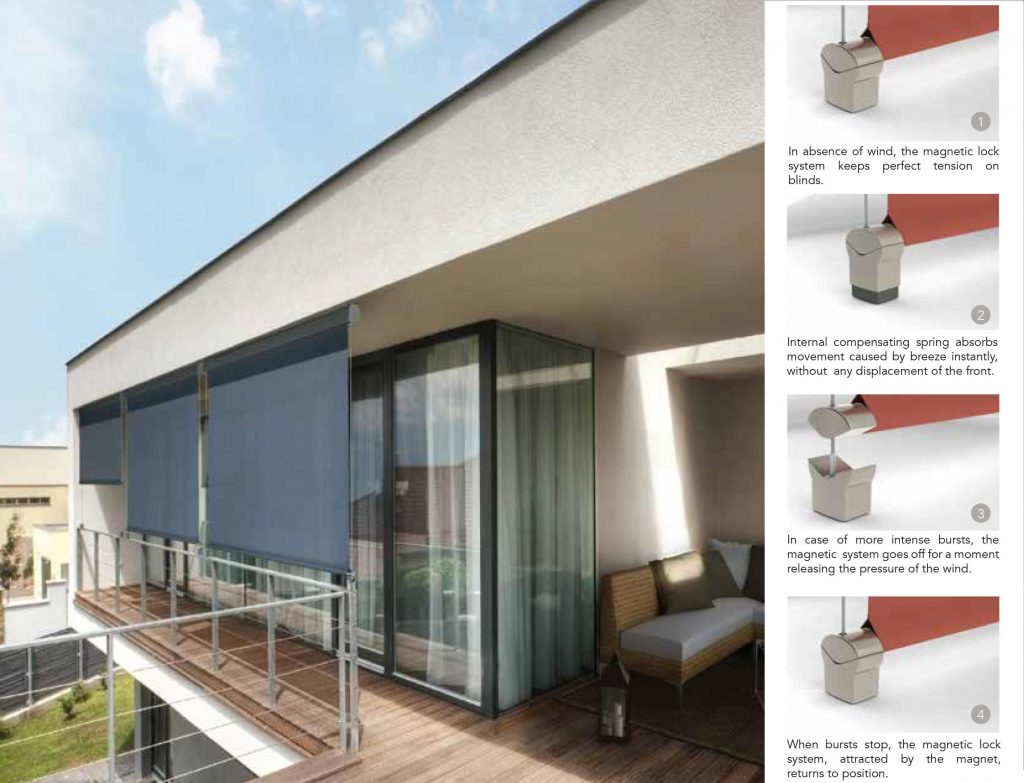 Today, different windows are made for different types of setting.
Discover the value-added windows solutions we've catered for you