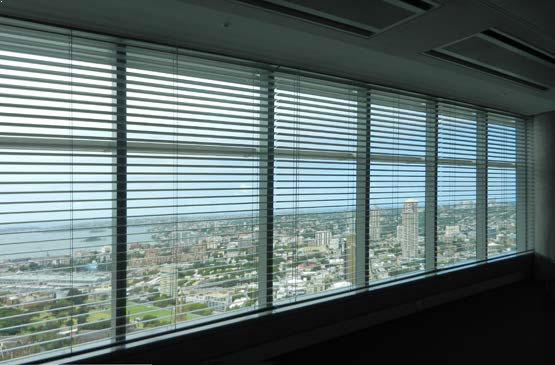 benefits of choosing EXTERNAL VENETIAN BLINDS (evb)
climate control
In line with weather changes over time, construction projects consider solar management solutions as an important factor. With its inventive functions and results on the exterior look of buildings, EVB adds a touch of dynamism to structural features.
These handpicked External Venetian Blinds cleverly maximizes internal light for reduction of glare and solar temperature conditions.
To make room for the requirements of the projects, External Venetian Blinds offers an integrated responsive building management system that possesses autonomous control.
The External Venetian Blinds combines structural design with engineering needs, and are resistant to extreme climatic conditions for ideal performance.
resistant aluminium slats
Crowned aluminum slats are manufactured from a highly flexible alloy, resulting in high flexibility and resistance to scratch and shock. Metal slate are 0.45mm(0.017in). The special double omega punch on every slat has ladder braid to guarantee efficient closing of the slats. This results in a more durable slat alignment which is resistant to extreme weather, minimizing uneveness.
control solutions (Automated)
To make room for different requirements of each projects, EVB offers an integrated responsive building management system that possesses autonomous control.
Automated Control
Switch

Effortless combination of EVB with third-party switches or wireless wall switches which provides reduced amount spent on electrical works
Able to mount at your ideal location without detriments with its wireless features

Remote Control

Alleviate occupants' level of comfort and convenience with wireless remote control
Provides a smooth usage of its programming functions to enable users to change and set "favourite" settings

Home Automation

Effortless combination of EVB with any home automation system and other features
Easy access via smartphones and tablets wherever you go, coupled with no additional control. Intelligently easier control, programming and monitoring of all your gadgets
Innovative technological components are compatible with the users' way of life. This system allows users to create various moods and timer settings conveniently.

Facade management control solution

EVB can be combined with façade management control system, to achieve the ideal comfort level and maximize energy savings. The real-time façade reacts in accordance with climatic changes resulting in bioclimatic properties designed to ensure comfort of its users
For increased comfort and security, sun-sensor's automatic controls changes the slat and optimize lighting intuitively, while ensuring interior privacy.
OPERATING SYSTEM OF EXTERNAL VENETIAN BLINDS (EVB)
Minimization of the absorption of thermal heat by up to 93%
Manages solar glare for better working environment and comfort
Maximizes interior daylight to decrease reliance on artificial lighting
Privacy control with optimized slats that allow management of openness
Plays a part in acquiring high rating in the environmental green building rating systems through its high performance and environmental creativity
Aluminium boosts energy efficiency by reducing the required amount of floor-spaces for mechanized cooling / heating plant.
Aluminium's intrinsic features decreases heat transfer
High wind resistance system:

Headrail, slats, HDPE covered cable guides and ejected bottom rails are designed to resist overly strong wind
Strong wind resistance of up to 90kph (50mph)

Wide range of bendable aluminium slats, pelmets, motor selections and customer colours and finishes
Able to hold big openings
Blinds are made secure with double omega punch, making the system more long-lasting
Retrofitting functions
Compatible with all building control systems for example: BACnet®, Lonworks® and KNX® protocols
Discover the other types of binds available